Business Bitesize
Here are some Bitesize Business Breakthroughs that you can digest in minutes! These insights will give you the tools to improve your business, all in the time it takes to drink a cup of tea or coffee!
You catch more customers only when you hook into their regular routines…
---
Make difficult conversations easier and more valuable…
---
Prevent profits slip sliding away by mastering the art and science of pricing.
---
Better use your business brain and achieve better business results…
---
Here's how you sidestep second-rate results by using the science of goal-setting…
---
Are you wasting 80% of your working week making just 20% of your profits?
---
Why risk the health of your business by measuring the wrong things?
---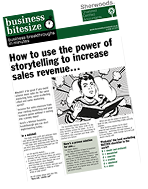 How to use the power of storytelling to increase sales revenue…
---